Journal Entry:
Mon Apr 21, 2014, 11:01 AM
|||
FAQ
|||
My site
|||
My scraps
|||
Commissions
|||
My tumblr
|||
Facebook
================================================
what is it like to work on a webcomic?
A: Webcomics is really just comics hosted online... so for webcomic advice I really just have one advice,
just do it
. Don't think too deeply about it other wise you will have trouble starting. Don't think you need perfect drawing, don't think you need perfect story, just go and work at it eventually you will get to where you want. Here's an inspiration:
www.mangahere.com/manga/onepun…
Once you start and get stuck somewhere, then search for a follow-up advice or come to me again.

How did it help with animation if at all?
A: I think it helps with discipline, and you become familiar with your own timing because of steady update, you also draw constantly so your speed is faster, ready to be trained into animator, it also helps with your ability to draw characters at different angle, expressions, and storyboard for animation and sequential storytelling skills. Most of these skills doesn't come by as strongly if you only do single piece illustrations. Illustrations will train you on details, accuracy, single panel composition and impact.
What would you recommend an aspiring student to do to aspire a career in film/animation?
A: Become a really good self-learner and just constantly improve your own ability. Once you stop learning that's when you start to fall behind.
What would you recommend anyone starting from the ground-up?
A: Do a short comic, or a test comic, then find a host online, there are free hosts like
www.inkblazers.com/
and
www.smackjeeves.com/
Do a really good thumbnail or banner, on internet that speaks for everything...
Rewrite your logline and comic description until you can present the main conflict of your story the best you can, and keep it as simple as you can. People tend to gravitate toward "conflict" of the story. I don't really know why.... If your story is not about conflict, then just sell "light hearted" combine with cute... to a specific type of crowd. (they will eat it up) Or make it educational in some sense.
What's the best approach for starting a webcomic or animation?
A:
Starting a comic: Chapter 1 is everything, plan for about 30-60 pages for chapter 1.
Present the main character and his/her quest in chapter 1.
Present the tip of the conflict in chapter 1.
Present a strong struggle in chapter 1 if you can.
End chapter 1 with a strong/evil hook for chapter 2 if you can. It's your demo for the rest of the comic, redo chapter 1 several times if you need to, try to get as much feedback on chapter 1 as possible.
From my exp, most people's (including myself) first chapter 1 tend to drag too long on character presentation, or present the conflict too quickly at the end and end really hastily. So try to avoid those problems.
Tip 2:
Don't try too hard to impress, making comics should become part of your own expression, either for your dream, your escape, your political view, or anything that matters to you. If a comic become your voice, it will become second nature to you.
Tip3: Don't put too much text in.... Comic wise.... the most comfortable read is about 60-80% graphic, 20-40% text on the page.
----------
Animation: Practice with tutorials first, do short looping seq first, then go for longer sequences and incorporate more things like voice actors and such.
The rest is too complicated, it can't be finished in 1 note... I will keep putting out tutorials and you can ask me more questions after you watch them.
++++++++++++++++++++++++
Click to vote to see extra side story, or wips, update Wed, Sunday: (spam voting welcome XD)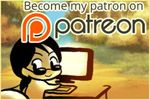 I hang out at: (add me if you want)
+
DrunkDuck.com
+
My youtube
+
My twitter
+
Livestream
+
SmackJeeves
+
Facebook
+
mangamagazine







My Golden Rules:
No request, no art trade. sorry too busy.
-I take
commissions
,
( commission is paid request) contact me through notes or e-mail
-I will offer gift art, and take gift art
-I dislike hentai, or yaoi (personal preference)






OLD OLD OLD friends:

























Con buddies: