Journal Entry:
Wed Apr 10, 2013, 9:52 AM
|||
FAQ
|||
My site
|||
My scraps
|||
Commissions
|||
My tumblr
|||
Facebook
================================================

An indy artist's work being used by Disney without permission: katiewoodger.tumblr.com/post/4…
My tumblr reply: mayshing.tumblr.com/post/47627…
PS: this one is on the verge being settled, Disney already started working on it, she's being helped.
Seeing posts like this, I just thought I should share some knowledge I have, I personally already have met 3 different artists who doesn't know what to do when:
Record company ripped them off
Publisher ripped them off
Big corporation used their artwork without permission (that's usually by accident because of an outsource company broke the rule etc)
USA people: Go to lawyer volunteer groups for artists first if you need a helping hand-
Nation wide(international includes Australia, Canada): www.vlany.org/legalservices/vl…
NYC based lawyer volunteers: www.vlany.org/
CA based lawyer volunteers: www.calawyersforthearts.org/
When artists meet this kind of situation, don't panic, if the steal is obvious, it's usually going to settle really quickly unless there's a contract problem.
I can see this as an out-source problem with a large company, a company like Disney being so big can't watch every worker in China, India, USA… They are the biggest outsource client to various countries. So this is probably done by one of the workers under Disney without them knowing since its work of an indy artist. A company like Disney pride itself with original content, they will likely take this down ASAP if a lawyer writes a letter for you to them and help you settle this issue. You can decide to settle this out of court or in court.
As for rude, unruly company, like a small time record label, and publisher, you might need to really take the court threat seriously compare to the big one. Because they will not listen to the artist. Companies that have more reputation at stake will resolve it quicker.
I know some lawyers, (especially in USA where lawyers are everywhere) will not collect charges unless you win the case then they split from the settlement. If you can find entertainment lawyers and volunteers to talk to, I'm sure they can point you to the right direction.
FYI: JUST be careful about going online FIRST with the news, I know a lot of artists DO this! Because if you screw up and hurt a company's reputation with vague/unclear accounts (because you are likely to be more emotional about it, you didn't put the case together solid), they CAN sue you for it! SO Go contact a copyright lawyer FIRST before you post on social network sites unless you REALLY don't know what to do.
Especially if the artwork isn't an OBVIOUS steal but more of a conceptual steal, (like stolen composition, character face design, looks similar but not completely the same) that CAN REALLY get you in trouble if you pick a fight online FIRST before getting your case straight. Basically, try the safe approach before you try the risky one. Posting online is easy, but it's actually a risky move for you and the company.
++++++++++++++++++++++++
Click to vote to see extra side story, or wips, update Wed, Sunday: (spam voting welcome XD)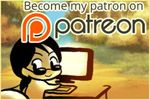 I hang out at: (add me if you want)
+
DrunkDuck.com
+
My youtube
+
My twitter
+
Livestream
+
SmackJeeves
+
Facebook
+
mangaido
+
tapastic







My Golden Rules:
No request, no art trade. sorry too busy.
-I take
commissions
,
( commission is paid request) contact me through notes or e-mail
-I will offer gift art, and take gift art
-I dislike hentai, or yaoi (personal preference)






OLD OLD OLD friends:

























Con buddies: